About Me
Los Angeles, CA, United States
Hi, I'm Daniella, a 25 year old living in Los Angeles, CA. I'm a busy girl with a 9-5 career and an affinity for food, fashion and fitness. This is a true account of my adventures on the West coast!
View my complete profile

Dec 29, 2010
Enjoying my time in Miami with crazy-eyed Frodokins :)
- Posted using BlogPress from my iPhone
Location:Miami, Fl
Dec 17, 2010
Yesterday after I got home from work I knew I wanted to work out but didn't feel like gymming it up. Luckily, I have free weights at home for just this kind of situation! I have a rotation of free weight exercises I
like
to do but I have been trying to step outside my comfort zone and challenge myself to do new exercises. Muscle memory, ya know.
So for last night's workout, I broke open an issue of
Women's Health Magazine
that I picked up at the airport on my way back to LA from Thanksgiving. I took my workout straight from the magazine. It was a circuit routine done with 5 lb weights that was designed to tone upper and lower body at once!
It included moves like this: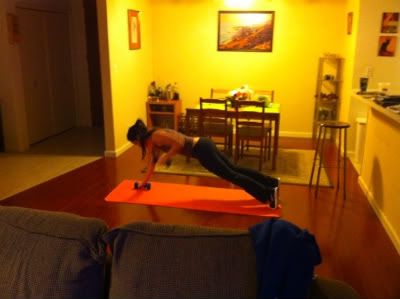 Yup, that's a plank with arm-toning maneuvers! Matt snapped the picture on his iPhone while I wasn't looking but, I must say, I look pretty
badass
! And today? Well my back and shoulders are hella sore and my hamstrings and quads are a twinge sore as well. My lower body is clearly in better shape but no surprise there.
After my circuit-style workout, I made myself a pumpkin tea latte which was simple and healthy (with some hidden veggies!)
First add a whole tablespoon of pureed pumpkin and tea bag to a mug. I used Trader Joe's Relax tea.
Add hot water and allow to steep.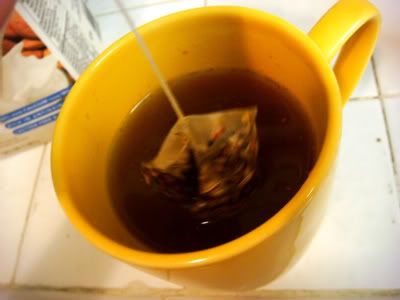 Add almond milk, agave syrup and cinnamon (or pumpkin pie spice).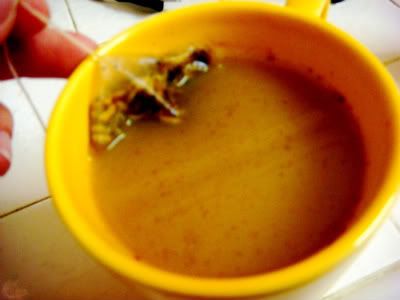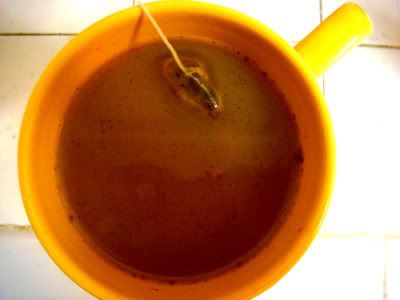 This was absolutely delicious and the tablespoon of pumpkin makes it thick while providing some added nutritional value.
Since I was on such a healthy roll, I made this tasty post-workout meal: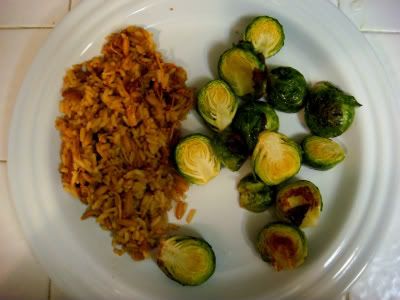 Matt had made rice pilaf to which he added some chicken that I cooked earlier in the week. I cooked the chicken in the slow cooker for 8 hours with a jar of salsa, crushed garlic, cumin and cayenne pepper and then shredded it. It was unbelievably tasty and I have been using it in "healthy burritos" for lunch. I stole a couple scoops of Matt's rice pilaf/chicken mix and added a hefty side of roasted brussel sprouts. It isn't pictured but I gave the brussel sprouts a few squirts of ketchup :) 'Twas yummy!
Dec 15, 2010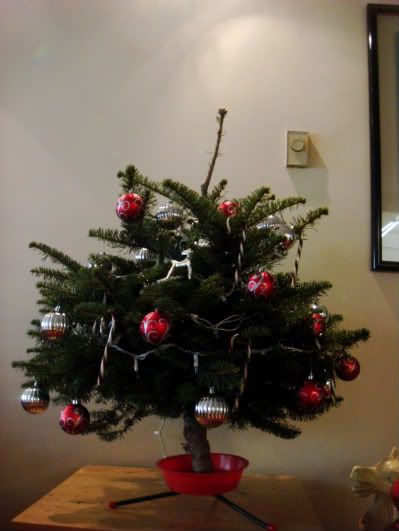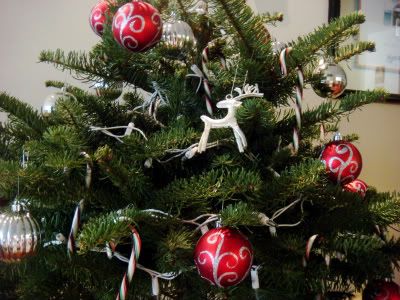 The other day, I picked up this fat little tree for our apartment. I am in love with its Charlie Browness! It's just about the cutest thing ever :)
We've had some rather temperamental weather in Los Angeles but I decided to make
this
butternut squash soup anyways. Nothing like soup in the winter!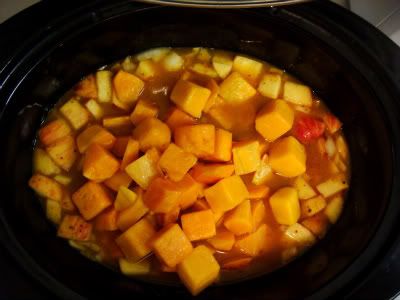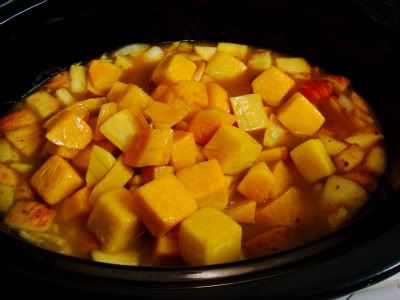 I omitted the cloves and coriander because I had none on hand. This recipe was pretty simple, especially since I bought already cubed butternut squash. I just wish I had a Vitamix. Sigh.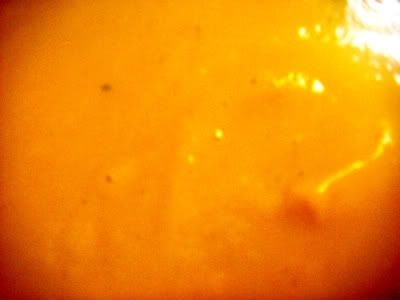 Very yummy and comforting nonetheless.
And as I blog, Matt and I are munching away on the first batch of holiday cookies I've made all season...
Jessica's
Fat Fluffy Snickerdoodles
!!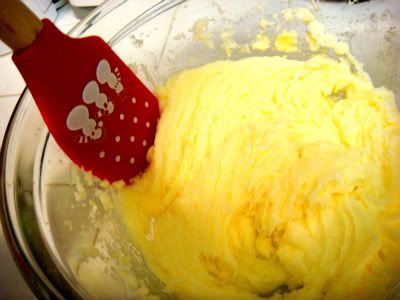 **Note the holiday spatula that came in a wonderfully thoughtful package that Matt's brother and sister in law sent me. Also in the package were the silver reindeer ornaments that are on my Charlie Brown tree and a set of holiday cookie cutters which I am reserving for later use**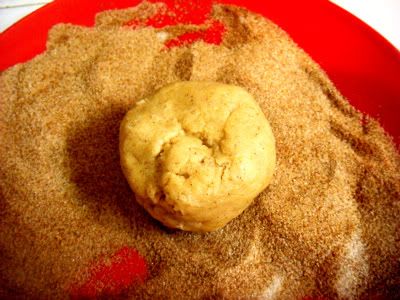 Rolled in cinnamon and sugar...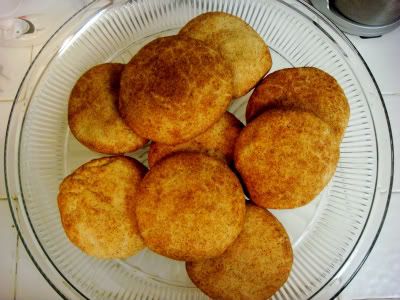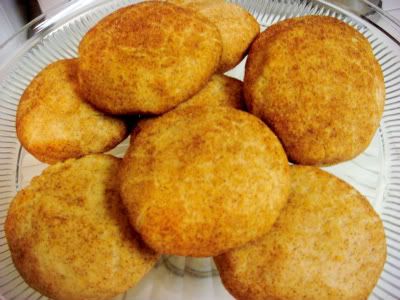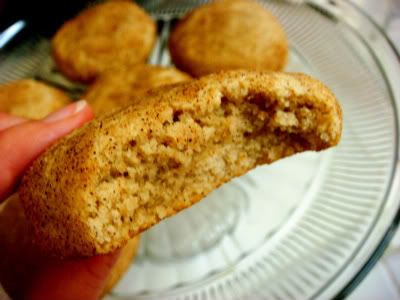 If Jessica's cookies were "fat" mine were OBESE! Matt even asked if they were supposed to be so fat. I also made them twice as big as Jessica's. The recipe was supposed to yield 16-20 but I made 10 monster cookies. They smelled like cinnamon rolls baking in the oven and had such a great cinnamon flavor and slightly crispy shell. I LOVE them and highly recommend!!
The other day, I went ice skating with Matt and some friends in Santa Monica. Friends included Faith from
Stylish Faith
and Nicole from
Tulle and Studs
.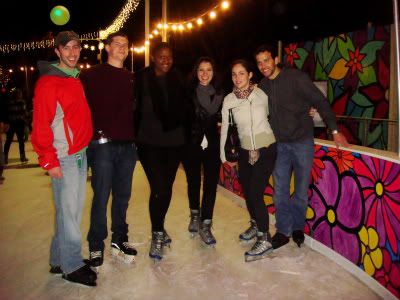 It was my second time ice skating (one other time in Gainesville, FL). I am happy to say that I didn't fall leaving me with a still spotless record :) Although the rink was crowded and there were a few near slips, it was so much fun hanging out with my friends and catching up!
I will leave you with a few shots of my Christmas tree lit up at night...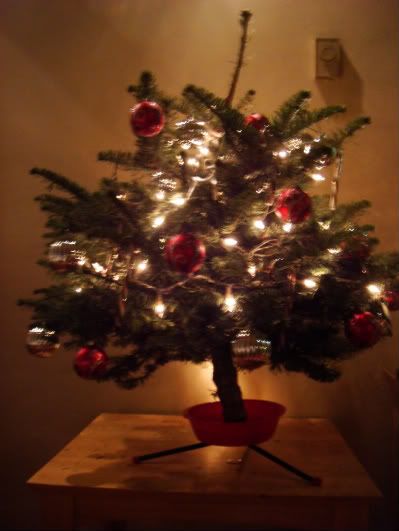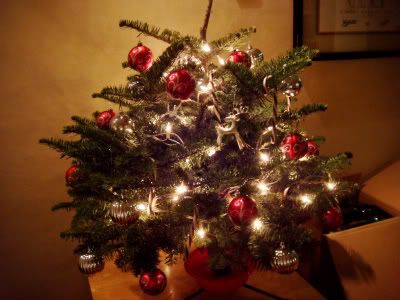 See you back here for more holiday baking!!!