Oh boy do I have a delicious dinner for you that's quite the trickster! The title was a little bit of a hint as to what it is but first let's look at breakfast and lunch...
Breakfast was my beloved
Chocolate Protein Pumpkin Rice Pudding
with twice the amount of rice! I wanted to use more rice to use up my leftover brown rice AND to fill my belly up since I'm still slightly under the weather. Just slightly. I'm about 95% better. I'm going to eat my way out of this!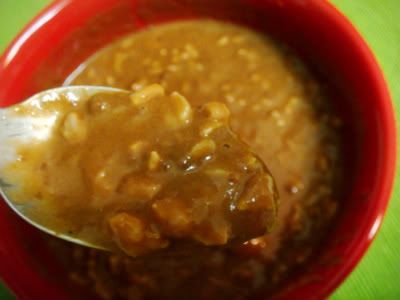 For lunch I packed myself the last of my leftover spaghetti squash from
my cooking night with Jill
. I added some cooked chicken on top that TJ's suggests I eat by today. Trader Joe's cooked chicken usually has an expiration date of about 2-3 days after you purchase it which is okay with me if that means less preservatives.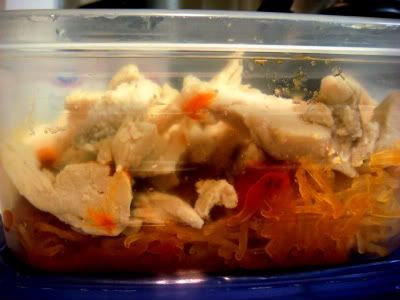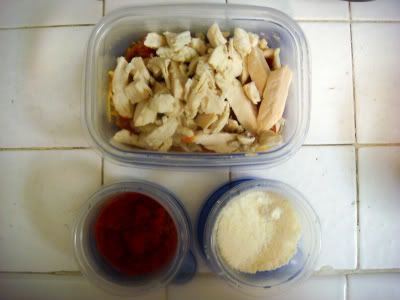 I packed a side of tomato sauce and a side of grated parmesan. This was amazing! I was also shocked at how long it kept me full. I thought between it being lean protein and vegetables that it wouldn't have staying power but I was definitely wrong! I didn't even eat the honey flavored Greek yogurt I brought. It also could have been the mini tupper of Thai lime cashews that I devoured... those things are amazingggg! I have another spaghetti squash in my vegetable bowl so I'm eager to make it again soon :)
And on to the main event...
Just don't tell your picky eater that there actually no potatoes in this! No regular potatoes that is...
While catching up with Maria, one of my best friends from Miami, over AIM, I was struck with this genius idea. Maria was my muse really because weeks ago she told me about boiling and mashing cauliflower and eating it like mashed potatoes. Just speaking with her reminded me of this interesting dish and that I did indeed have cauliflower. I also had a can of canned beans that I had seen incorporated into mashed potatoes in a low fat cookbook. And lastly, I had a white sweet potato that has been sitting in my veggie bowl for a couple weeks.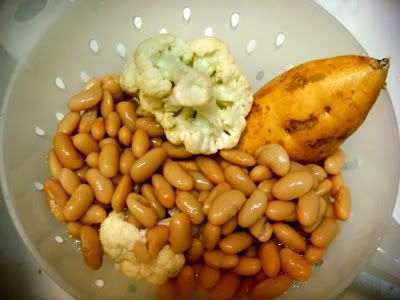 The theme of this dish was "mish mash of things I had laying around". I brought a pot of water to a boil and threw in my beans and veggies, covered and simmered for 20 or so minutes.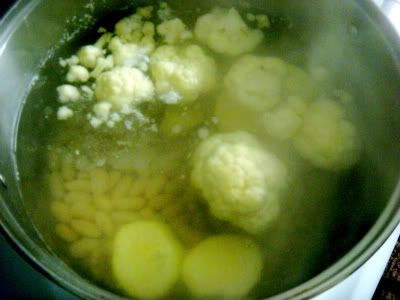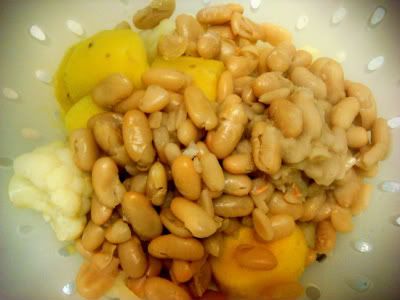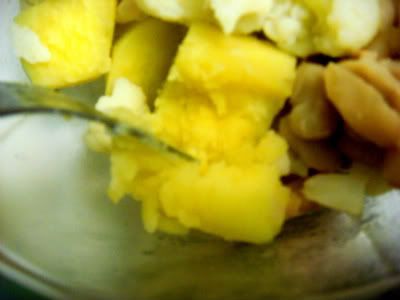 Not a great picture but the sweet potato should be your indicator to tell when these are ready. It should fall apart when poked with a fork. Next, the mix-ins! Remember, this is a bowl of mashed veggies, you NEED to add flavor!!!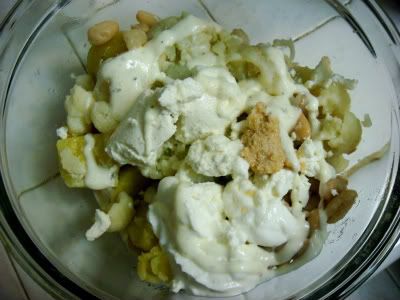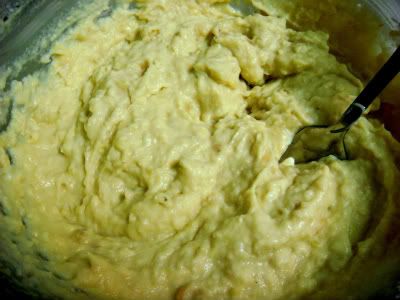 Mix-ins were also a mish mash. I used the remaining goat cheese I had (2 oz?), a splash of heavy cream (only because I had it in my fridge!), squirt of low-fat Ranch dressing, two scoops of Greek yogurt, 1/2 tablespoon of crushed garlic and a few dashes of garlic salt. I could have flavored it more simply but this worked pretty well.
I paired my mashed-everything-BUT-potatoes with the last bit of my cooked chicken which I heated in a small pan with some Trader Joe's General Tsao stir fry sauce.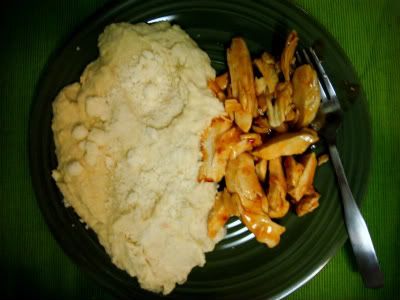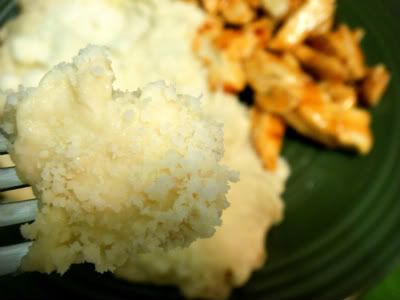 Oh ya, and a little Parm on top :)
This meal is deceptively nutritious and obviously delicious! I'm not 100% convinced on the General Tsao chicken pairing with it but it worked for tonight...
10K Training:
As I've mentioned, I will be running my first 10K this Thanksgiving! This is a completely new distance for me. I've run 6 miles with the break of going to the gym in between but never 6 miles consecutively. The most mileage I've run consecutively is 5 miles so I'm excited for this new distance and to accomplish something I never have.
In the past, I have tried increasing mileage too quickly and gotten shin splints which set me back for weeks. My approach this time is to use compression sleeves for recovery and to use
Hal Hidgon's 10K Novice Training Plan
. This will be my first time following a formal training plan and I'm feeling pretty good about it. Since the 10K is on a Thursday (Thanksgiving morning), I switched around the days of when I do which type of training but all of the important elements remain the same.
Here is my training plan:

I'm very happy that the training plan includes strength and cross training. I would do those things anyways but it's nice having everything in one neat spot.
So, all along I knew my training plan technically started Friday and have had this mental mindset. As I mentioned earlier, I've been a tad under the weather and even today am not 100%. I was a little nervous about starting my training plan tomorrow and, of course, would not have if I hadn't felt up to it but would have hated to start it on that foot. In the afternoon I inspected the worksheet more carefully only to find out I had designated Friday as a REST day! WOO HOO!!! I think I needed the extra day of rest and I'm looking forward starting my training Saturday with 30 minutes of cross training :)