Yesterday after I got home from work I knew I wanted to work out but didn't feel like gymming it up. Luckily, I have free weights at home for just this kind of situation! I have a rotation of free weight exercises I
like
to do but I have been trying to step outside my comfort zone and challenge myself to do new exercises. Muscle memory, ya know.
So for last night's workout, I broke open an issue of
Women's Health Magazine
that I picked up at the airport on my way back to LA from Thanksgiving. I took my workout straight from the magazine. It was a circuit routine done with 5 lb weights that was designed to tone upper and lower body at once!
It included moves like this: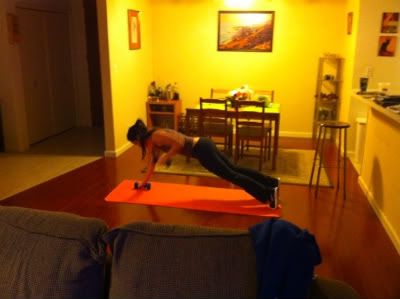 Yup, that's a plank with arm-toning maneuvers! Matt snapped the picture on his iPhone while I wasn't looking but, I must say, I look pretty
badass
! And today? Well my back and shoulders are hella sore and my hamstrings and quads are a twinge sore as well. My lower body is clearly in better shape but no surprise there.
After my circuit-style workout, I made myself a pumpkin tea latte which was simple and healthy (with some hidden veggies!)
First add a whole tablespoon of pureed pumpkin and tea bag to a mug. I used Trader Joe's Relax tea.
Add hot water and allow to steep.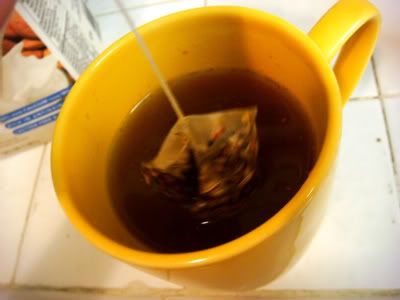 Add almond milk, agave syrup and cinnamon (or pumpkin pie spice).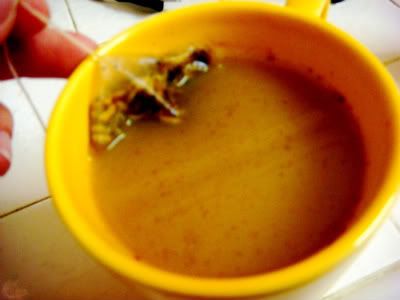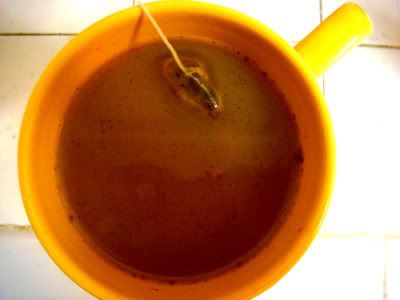 This was absolutely delicious and the tablespoon of pumpkin makes it thick while providing some added nutritional value.
Since I was on such a healthy roll, I made this tasty post-workout meal: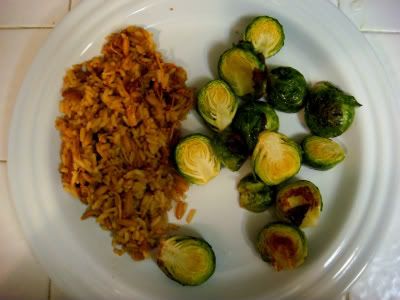 Matt had made rice pilaf to which he added some chicken that I cooked earlier in the week. I cooked the chicken in the slow cooker for 8 hours with a jar of salsa, crushed garlic, cumin and cayenne pepper and then shredded it. It was unbelievably tasty and I have been using it in "healthy burritos" for lunch. I stole a couple scoops of Matt's rice pilaf/chicken mix and added a hefty side of roasted brussel sprouts. It isn't pictured but I gave the brussel sprouts a few squirts of ketchup :) 'Twas yummy!