Today has been one of those days I wish I could have removed from my nutritional record. It started with some pretty outstanding and amazingly sugary
Pomegranate Topped French Toast
. I upped the ante on these by making some homemade vanilla whipped cream and topping with fresh pomegranate seeds. After breakfast, I went shopping with my friend Natalie where we ate our weight in frozen yogurt for lunch. By the time I was en route home, visions of steak lavash pizza were dancing through my head. And then I got a text. A text that would change my dinner plans...
Matt texted to let me know he had picked me up a godmother sub from
Bay Cities Deli
!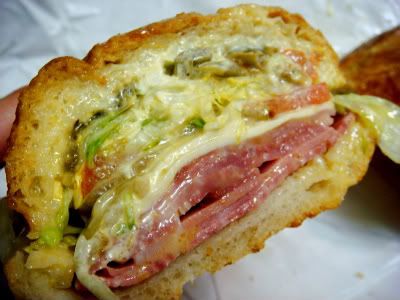 In case you are unfamiliar, the godmother sub from Bay Cities was featured on
The Best Thing I Ever Ate
"between bread" edition. It is arguably the greatest sandwich ever assembled.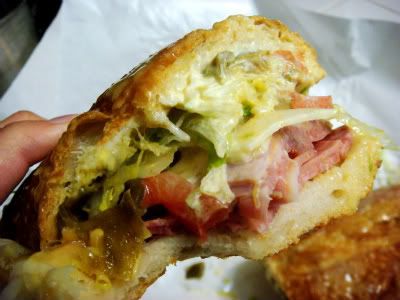 What makes a Bay Cities' godmother amazing is that they start with a great base, a fresh Italian bread just crusty enough to hold its own against the layers of mayo, mustard and tangy Italian dressing. They layer the sandwich with spicy Italian meats and a soft mild cheese. Possibly the second greatest part of the sandwich after the bread is the layer of spicy peppers that add boatloads of flavor in each bite. The sandwich is finished with lettuce, tomato and condiments.
Absolutely amazing, absolute sandwich perfection.
Also, you can expect the last two meals from my weekend menu as Monday and Tuesday night dinner :)