Tonight, I made a twist on my previous
stuffed green peppers
recipe. This version featured something new that I picked up at Trader Joe's a few weeks back and have been itching to try.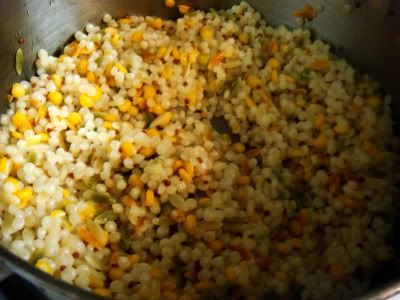 Harvest Grains Medley!
This medley was so goooooooood :) Although it called for butter, I used a glug of olive oil. I think I may have to buy another package to bring to Thanksgiving in Miami, it was just
that
good!
While the grains were cooking away, I microwaved two hollowed out green peppers a la Matt's mom to make the cooking process go by faster (I was hangryyyy after a good sweat sesh and yoga). Soon, it was time to make the stuffing.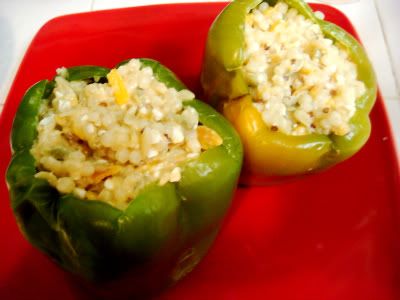 My stuffing consisted of approximately two cups of cooked Harvest Grains Blend, two heaping spoonfulls of cottage cheese, two heaping spoonfulls of roasted garlic hummus, a small handful of Trader Joe's smoked cheese blend and a few dashes of garlic salt. Somehow I made the EXACT right amount. I placed the two peppers in the oven on a baking dish at 400 degrees for approximately 20 minutes.
I grilled up a piece of Trader Joe's marinated mahi mahi for some added protein.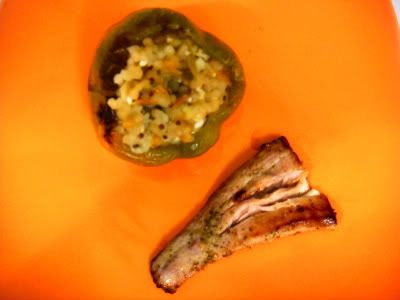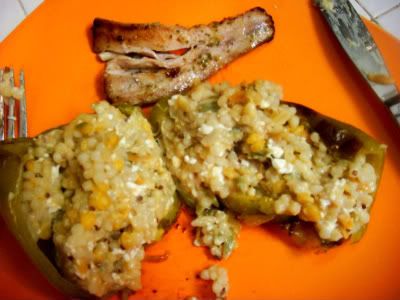 And all gone...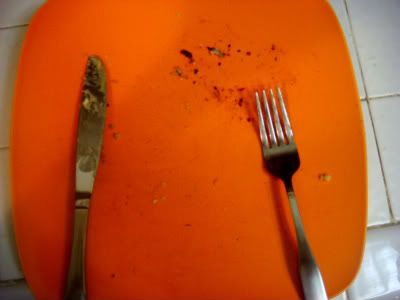 This was one tasty meal, not to toot my own horn. I like the Trader Joe's smoked cheese blend because it is VERY smokey and therefore a little goes a long way. Otherwise I could just drown myself in cheese. I really could.
Today was listed as a "Strength and Stretch" day in my workout plan. For the strength portion I did three rounds of
The Fitnessista's latest bootcamp
using the new free weights Matt picked up for me the other day.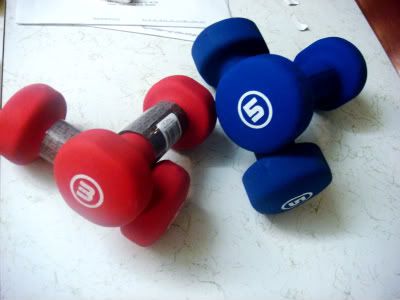 I used the 5 pounders the whole time and was definitely feeling it the most on the lateral lunges with overhead press and, as usual, burpees were killer!
After I sweated up a storm through the "Strength" part of my workout, Matt and I headed over to the gym where he lifted weights and I took a yoga class. I'm usually pretty unimpressed in general by gym yoga classes (not that I have tried a studio, but still) but this teacher was really amazing! Apparently he even has a Facebook where you can follow him and make requests. Someone had requested hips so, oh boy, did we get our hips stretched out. I felt pretty clumsy and uncoordinated in the yoga class but that just motivates me to work on it more, especially since I left feeling very limber :)
Goodnight, my bleaders (blog readers, I think that's from
Julie and Julia
)!!