I got a special package todayyyy!!! But we'll get back to that later. First, let's talk breakfast!
Kashi Go Lean cereal with pumpkin almond milk :)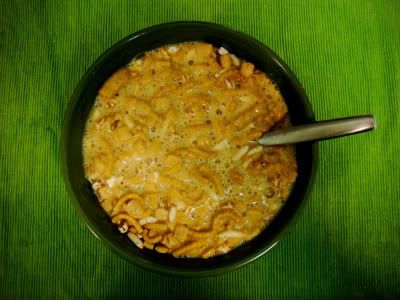 To make the pumpkin milk blend together almond milk (or milk of choice) with canned pumpkin. I added a little agave syrup because my cereal isn't very sweet and a touch of cinnamon. I finally got a hold of some pumpkin pie spice at Trader Joe's today so I'm excited to introduce that into my pumpkin recipes.
For lunch: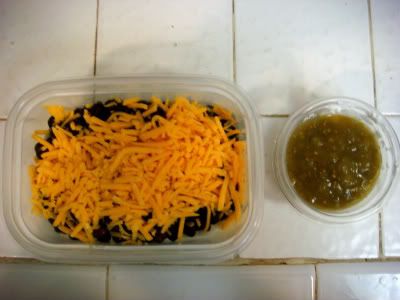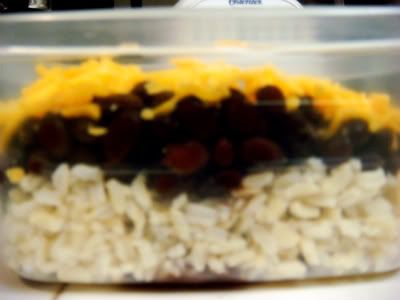 A blurry burrito bowl with brown rice, black beans, cheddar cheese and pickled jalapenos (that I added after picture taking) with a side of Greek yogurt and green salsa. Greek yogurt is a healthier, more protein-packed version of "sour cream"! This particular bowl had too much rice in my opinion. Oh well!
Even though my goal is $50-60, I never feel bad if I spend a little more because I know I save so much money by bringing my lunch :) Bringing lunch also means I KNOW what I'm eating! No guessing game here.
Foodie Challenge Shopping List:
You may remember that I posted my
food challenge
earlier in the week. I thought I would share a shopping list for the weekend menu. I went shopping after work today and made some small substitutions that you can choose to make or not. Whatever you want.
steak (I bought tri-tip but if you can splurge, go for the filet!)
parsley
red wine vinegar
lemon
garlic
cayenne pepper
mushrooms
red wine
asparagus (I bought broccolini)
loaf of crusty bread
red velvet cake mix (I bought chocolate)
8 oz block of cream cheese
butter
eggs
vanilla extract
bacon
goat cheese
pizza dough (I bought lavash bread)
tomato sauce
mozzarella cheese
arugula
strawberries (the strawberries at TJ were very sad looking :'( so I bought pomegranate seeds)
maple syrup
small container of strawberry (or pomegranate) greek yogurt
I know this SEEMS like a big list but this is assuming you don't have ANYTHING. I had quite a few things on this list like goat cheese, bacon, maple syrup, eggs, butter, garlic, vanilla extract, etc, etc, etc. Also I will talk about healthifying the meals and additions you can make that are not accounted for on this list. I also made some swaps since I last posted the menu but those will just have to be surprises for now!
Like Christmas Morning!
There's really no other way to describe how I felt as I tore open the big box I picked up between work and Trader Joe's. It's my new...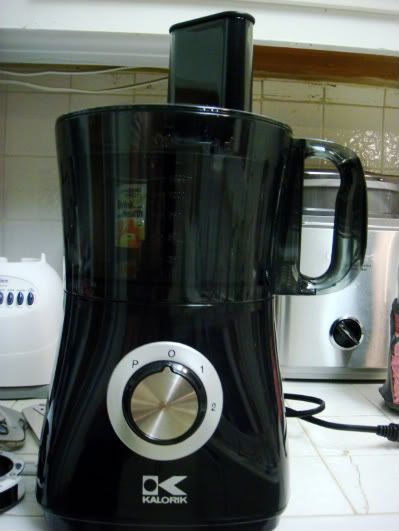 FOOD PROCESSOR!!!!!!!!!!!!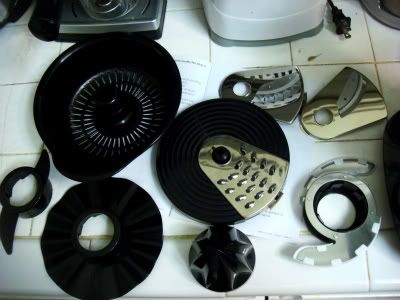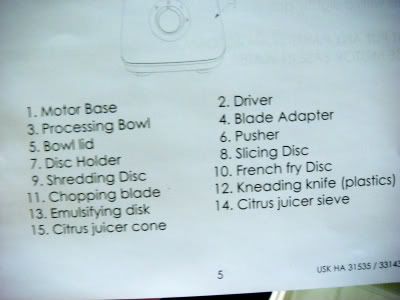 Look at all of those attachments! A french fry disk, what what??? And I happened to have bought some sweet potatoes today at TJ's, hmmmm....
As I was taking things out, putting them together and washing them all I could do was exclaim, this is the COOLEST thing I've ever bought myself! It does so much, even doubles as a citrus juicer and emulsifier. I can't wait to make ceviche and emulsify the bejeesus out of stuff :)
What's
your
favorite kitchen appliance? I think this might be mine. Let's hope the honeymoon period never ends!