Another meal, another blog post! As you're probably aware, I am eating my way through the menu I constructed to show how to make impressive yet simple meals on a low budget for the weekend. Saturday's lunch is my favorite thus far!
Start by washing your arugula and giving it a whirl in a salad spinner (or pat dry with a paper towel).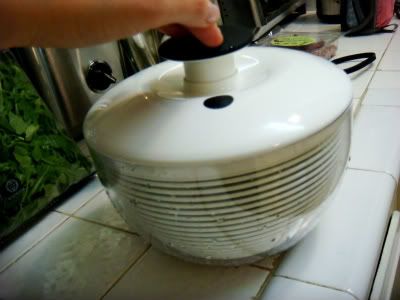 Weeeee! The salad spinner is still a relatively new kitchen toy so I still get giddy when I get to use it :)
Next, we'll start on our grilled cheese. For bonus points, you can create a Parmesan or Roman crust on your bread. I did this because I happened to have some grated Romano in the fridge. Heat a pan on medium heat and spray with non-stick. Cut two slices (four for two people but I was eating on my own this afternoon) and butter one side. If making a cheese crust, take the cheese and spread it on to the buttered side, pressing it in.
Place the bread cheese side (or buttered side) down on the hot pan.
Carefully place shredded mozzerella on one piece of bread and for goodness sake, stack it on, it's going to melt down! Spread the other side with your leftover chimichurri from
last night
.
Okay, walk away from your sandwich for a second to plate your salad. Take your arugula from your salad spinner, place on plate and top with fresh pomegranate seeds.
My original idea was to use strawberries but when the Trader Joe's strawberries looked like they'd seen better days, I picked up a pack of fresh pomegranate seeds. After all, as
Chocolate Covered Katie
pointed out, it's
Pomegranate Season
!! Plus, pomegranate seeds add a more sophisticated, gourmet touch with LESS effort than strawberries.
Okay, back to the sandwich. Carefully flip the chimichurri slice on to the mozzarella slice. I like my grilled sandwiches nice and squished so I adhere to the press, flip, press flip method.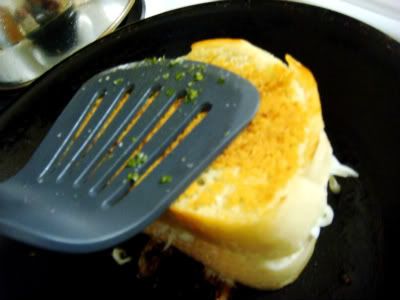 Once you've gotten your bread to your desired toastiness (made up word), plate with your salad. Drizzle some olive oil and balsamic vinegar on your salad. Sometimes simple is better.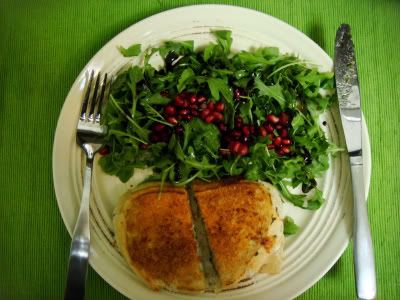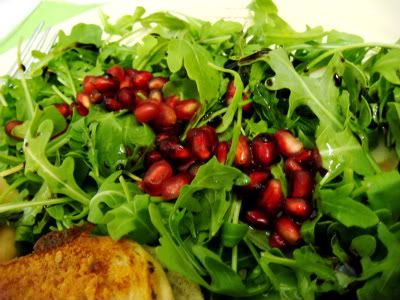 I must confess, a couple months ago I ate TOO much arugula and developed a bit of a taste aversion to it. I knew it just
worked
for this menu so I decided to give it another go and...
Ladies and gentlemen, the love affair has been rekindled!!!
The tart sweetness of the pomegranate seeds played well off of the pepperiness of the arugula and oil and vinegar was a great way to dress it so as to not take any attention away from the salad itself. But, I would be a liar, liar, pants on fire if I didn't say the grilled cheese was hands-down the star of this lunch.
The way that the flavors and fresh parsley from the chimichurri meld with the mild melty mozzarella is just a beautiful thing. And the Romano crust? There are no words. No. Words. No words.
What made me laugh today...
I don't know how to put videos on my blog but go
here
to see what cracked me up earlier. Thanks to my cousin Alessandra for sending this link along :)
Dear Anonymous,
You rock my garlic bread world! I received this amazing comment in reference to
last night's dinner
: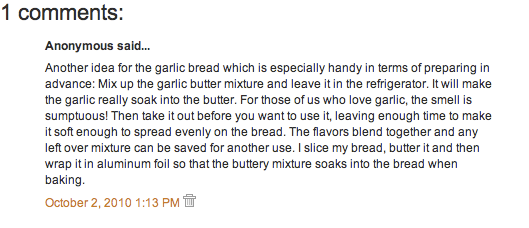 I hadn't even thought about that! Prepping your garlic butter would not only be a time-saver but allow the flavors to meld together and we know how I love melding flavors ;) Also, if wrapped in aluminum foil, I bet you can pop the bread in the oven before anything else. Great suggestion! Thank youuuuu!!!