Dinner tonight was a continuation of my weekend food challenge series. As you know, I missed out on Saturday's dinner in lieu of nachos and beer :) After work I had a sweaty workout sesh as per
my training plan
of strength training followed by a two mile run which I did on the treadmill as it was cold, dark and wet outside.
But let's get to the good stuff, right? Preheat your oven to 400 and spread your lavash bread with tomato sauce and cheese, top with sliced leftover steak.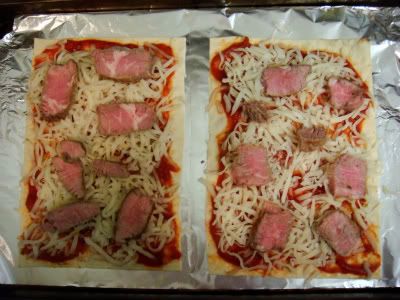 I stopped here for Matt but topped my lavash pizza (right) with leftover mushrooms in a red wine reduction, fresh arugula and goat cheese.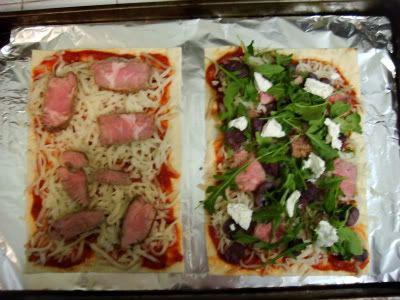 While I was prepping and cooking the pizza, I was also roasting some brussel sprouts to make up for yesterday. I told Matt that these little sprouts had come a loooong way to be here for dinner. They came all the way from Brussels. He responded with, "I have never met anyone that likes bad jokes more than you". Yes, that would probably be hard to come across...
My plate consisted of my lavash pizza, a small scoop of pasta with tomato and meat sauce that Matt prepared and my roasted brussel sprouts with Trader Joe's BBQ sauce.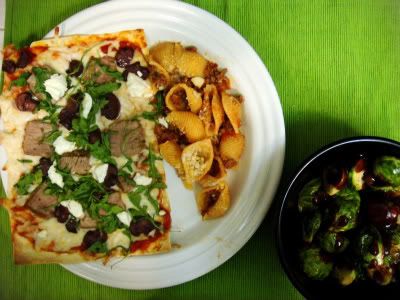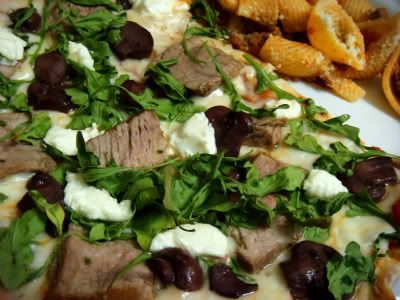 While the lavash pizza was delicious and easy to make, I don't give it the "Dani Does It" seal of approval as a viable complete meal option as it was intended to be. The lavash bread was thinner than I remembered it being and was therefore a very light meal. It was also kind of hard to eat because the lavash was so thin and kept flip flopping as I tried to eat it. Instead, I would suggest making the lavash pizza and cutting it into small pieces and serving as an appetizer. I am also imagining the lavash bread in some sort of grilled quesadilla type meal. I think that might be tomorrow's dinner!
Otherwise, this was a very tasty meal! It had lots of layers of flavor and a good way to use up some leftovers :)