Tonight I made the first meal of my "Cooking for the boyfriend" series. To remind you, my friend's boyfriend is coming to town for the weekend and she wants to impress him with some cooking. After all, the way to a man's heart is through his stomach, right? Well, I'm not sure about that saying but cooking for someone is a great way to show you care.
The menu for meal number one (Friday night dinner) is:
steak with chimichurri
roasted asparagus (broccolini)
garlic bread
mushrooms in red wine reduction
First, preheat your oven to 350. Then let's start with the
chimichurri
. Of course, I took it as an excuse to use my new food processor BUT, no fear, you can use a blender too or just chop the parsley finely by hand. This can be made in advance.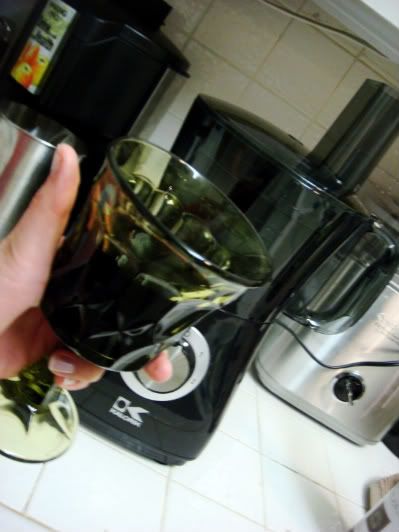 Go ahead and test the wine you're using to cook your mushrooms in only AFTER you've successfully assembled your food processor.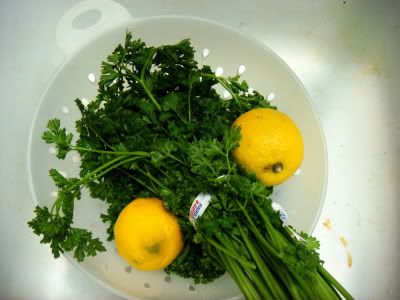 Chimichurri Steak Sauce:
a bunch of parsley
1/2 cup olive oil
1/4 cup red wine vinegar
juice of one lemon
salt, to taste
pepper, to taste
red pepper flakes, to taste
Directions:
Put all ingredients in food processor or blender and whir until well blended but not pureed.
Next, Start on your mushrooms.
Mushrooms in red wine reduction:
Ingredients:
8oz package of white mushrooms
1 tablespoon butter
3/4 cup red wine
Directions:
Slice and wash mushrooms. Melt butter over medium low heat. Once butter is melted, add mushrooms and sautee until soft (5-7 minutes). Add the red wine and let simmer until most of the liquid is gone.
Now, while your mushrooms are sauteing, start on your broccolini.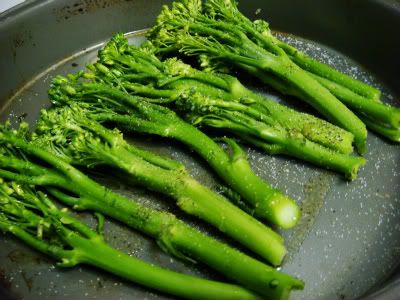 This one's simple. Wash, rub with olive oil, salt and pepper, place in roasting dish or any baking dish (cake pan here) and pop in the oven.
Okay.... Steak time!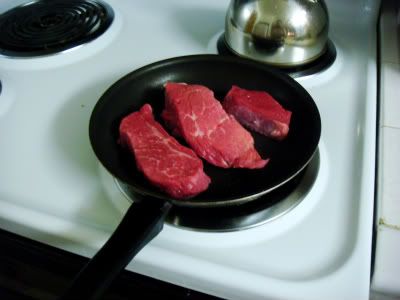 Right after you put your broccolini in the oven and pour the red wine over your mushrooms, put another pan on the grill and crank the heat to medium high - high. Once hot, drizzle a little olive oil and sear your steaks. They are going to snap, crackle and pop! By searing, I mean cook for 1-2 minutes on each side (quick quick quick) over a high heat to brown like in the above picture and seal in those juices. Once both sides are seared, put in the oven along with veggies. The steaks will cook in the oven for approximately 8-10 minutes.
***While you're putting your steaks in the oven, take a spatula and stir around/ flip your broccolini***
After you have the steaks in the oven, prep your garlic bread. This can also be done beforehand as a time-saver!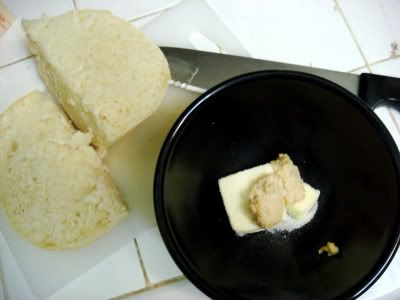 My Favorite Garlic Bread:
Ingredients:
2 slices of crusty bread of choice
2 tablespoons of butter
1 tablespoon of crushed garlic
garlic salt, to taste
Directions:
Microwave butter, garlic and garlic salt for approximately 30 seconds on high. Brush onto bread and place on aluminum foil or baking dish. If you do not have a kitchen brush, drizzle onto bread and use a butter knife to spread. Place in the oven until everything else is done.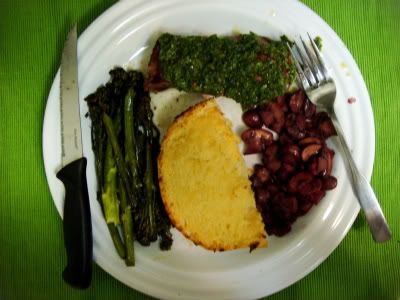 This was a great meal! It's quite a bit of prep work but is a very impressive and simple meal. Some time saving tips:
pre-slice your mushrooms or buy already sliced mushrooms
prep garlic bread earlier that day or day before
make chimichurri sauce
I felt like the mushrooms were delicious but unnecessary if you want to further simplify things. And, of course, do serve the dry red wine that you cooked your mushrooms in with the meal :)