Tonight I knew I wanted half of my dinner to be roasted brussel sprouts and broccolini with ketchup. Well, that takes care of the vegetable portion, what about the rest? My thought process went something like this...
Hmmm... What do I have? I have cooked chicken I need to eat... Ohhh I also have leftover brown rice that I need to eat...
And I must have been loving my dinner
last night
because the buffalo chicken casserole was born!
First, put equal parts brown rice and cooked chicken in a bowl (1 cup?).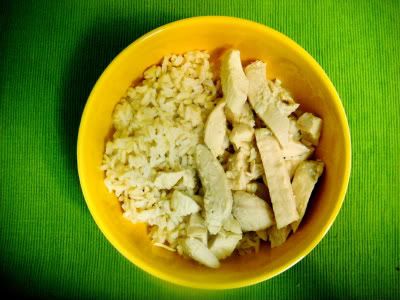 Pour equal amounts each of Frank's Red Hot and bleu cheese dressing (1/8 cup?).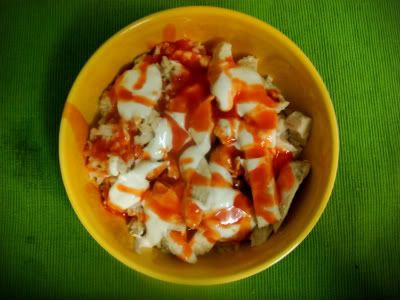 Top with a handful of cheddar cheese (1/4 cup?).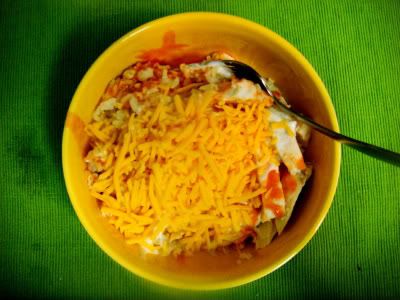 I had my veggies roasting in the oven while I prepped my casserole. I microwaved the chicken rice mixture for a couple minutes to warm it up, poured it into a french onion crock, sprinkled it with cheddar cheese and popped in the oven with my veggies. As soon as the veggies were done, I switched the oven from 400 degrees to the broiler and the cheese on top of my casserole was nice and melty in mere minutes!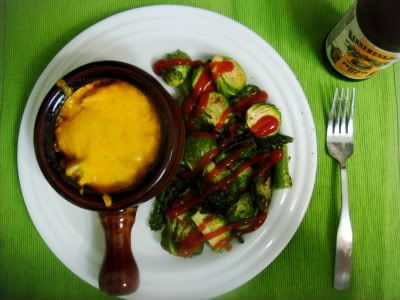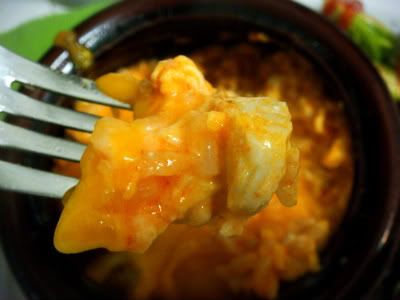 This was deliciousss!
Confession: Even though I showed you the casserole on a fork (because I wanted you to see the ooey gooey cheesiness), I ALWAYS eat my veggies first so that I can enjoy the rest of my dinner after. Not that I don't enjoy my veggies, of course, I just don't enjoy them
as much
as cheesy buffalo chicken casserole ;)
Along with this meal, I also enjoyed one of these: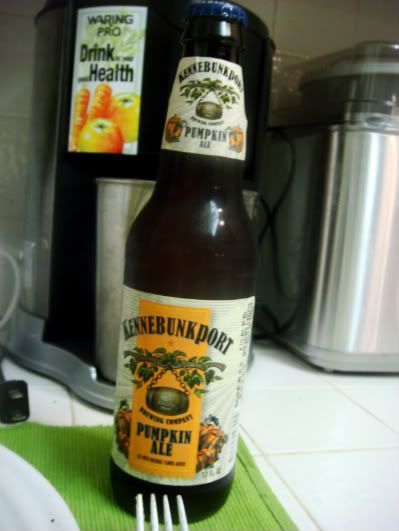 Mmmm... pumpkin ale! I LOVE pumpkin beer :):):) It rocks my autumn season!!!