On Friday my friend Jill who lives in Newport drove up to Los Angeles to cook and hang out with me and oh boy did I have a good menu planned for us (not to toot my own horn or anything!) We made
Emeril Lagasse's goat cheese-stuffed chicken breasts
, spaghetti squash with tomato sauce and garlic bread.
Jill sliced a pocket into each chicken breasts and stuffed them with the goat cheese filling I put together.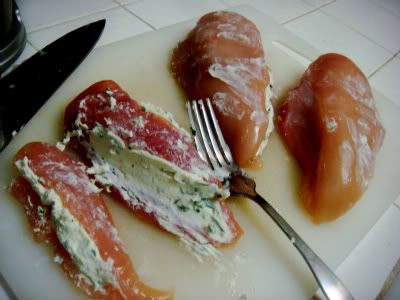 We dredged each piece in flour, egg and then flour again. Then we pan-fried them in vegetable oil for a couple minutes on each side and stuck them in the oven (preheated to 350) to let them finish cooking.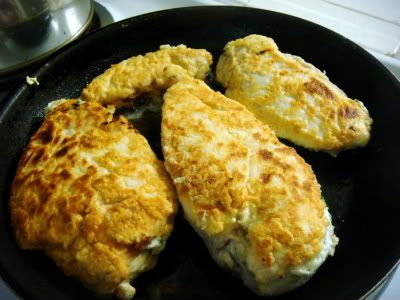 Since the chicken was in the oven (and we were hungry), the spaghetti squash got cooked via microwave. The instructions said to poke some holes into it with a fork. HA! More like STAB WITH KNIFE!!! The outer skin of the spaghetti squash was way too hard to be punctured by a mere fork. We cooked for approximately 9 minutes on high, rotating every 3. Cut in half, rake a fork through and you have this...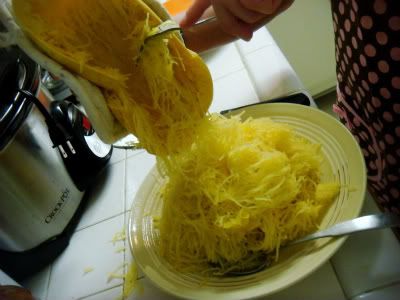 Add tomato sauce. I didn't have time to make my own so I used a jar of Trader Joe's sauce.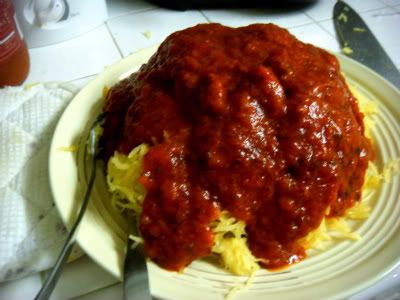 We also heated up some garlic bread I purchased at the grocery store.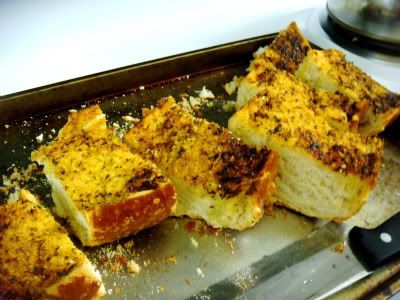 The bread was so buttery and delicious :) Had to do a little carb-loading before the Malibu Dirt Dash...
This is what my plate looked like: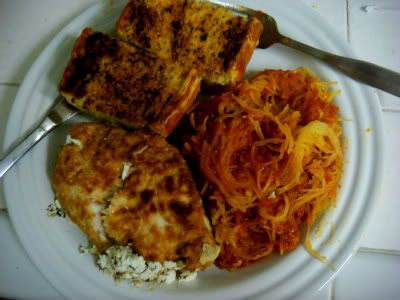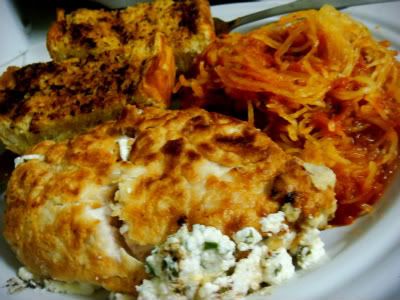 I ate every last bit of this plus more garlic bread and we each had a piece of leftover
blondies
:) This goat cheese-stuffed chicken breast recipes is one of my favorite go-to recipes, it is DELISH!
Why I blog food...
A conversation with the boyfriend this afternoon made it very clear why I am a food blogger. Apparently while we were in a long-distance relationship, I told him about every meal I ate every day. That was the biggest topic of conversation I would bring up. This was news to me but, at the same time, no shocker! I love food and I love to talk about food and, now that I have a blog, I love to show you my recipes and meals and I hope you love it too :)
What is your favorite go-to recipe?
If you blog, why do you blog? If not, what
would
you blog about?