Today's blog post is brought to you by prep work. All food items I'm about to show you were assembled last night for today's enjoyment :) I'm usually tired and eager to get to bed but last night I decided to take ten minutes to prep breakfast and lunch which, in turn, allowed me to get ready more leisurely in the morning AND be early for work! Amazing what a little forethought can do...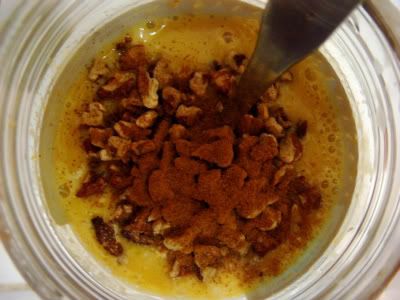 I made Overnight Pumpkin Oats in a jar!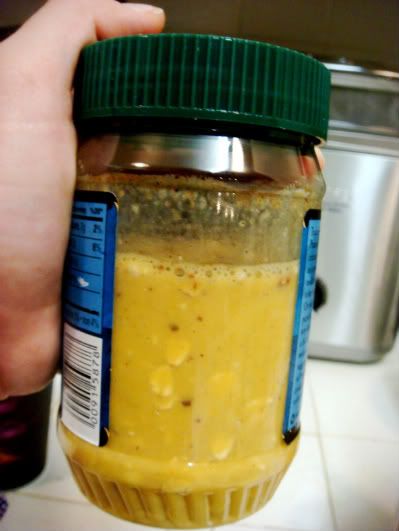 Overnight Pumpkin Oats in a jar (this was a peanut butter jar that I cleaned and now reuse):
Ingredients:
1/3 cup rolled oats
2/3 cup almond milk
1/3 cup canned pumpkin
agave syrup, to taste
maple syrup, to taste
1/2 scoop vanilla protein powder
chopped pecans (optional)
cinnamon (optional)
sunflower seed butter (optional)
Directions:
Mix together all ingredients except the sunflower seed butter the night before and let sit in the fridge overnight (or for at least two hours). Give it a stir in the morning, drizzle with sunflower seed butter and enjoy!
Holy Yum! I think I strongly prefer my oats cold to hot. I need to get my hands on some pumpkin pie spice because right now I think that's all that's missing in my life.
This morning I woke up with that itch in my throat, you know, when you're either going to get sick or not. Matt and I had this hilarious conversation about my possibly impending ailment:
Dani: I am HUNGRY! That's good, right? It must mean I'm not getting sick...
Matt: When are you NOT hungry?? I mean, it's a good thing. You have a healthy appetite. Every time you get sick you say, "I'm just going to eat my way out of this"...
What can I say? I'm a hungry girl!
Lunch was great today!! I made a healthy burrito that came together in mere seconds. This is a great recipe if you're pressed for time and love Mexican food as I do.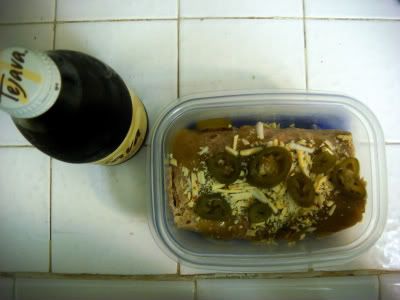 Easy Healthy Burrito:
Ingredients:
whole wheat wrap
1/3 cup leftover brown rice
1/4 can black beans
1/8 cup, plus more for topping shredded cheese (I used pepper jack)
1-2 tablespoons Greek yogurt, plain (I use non-fat)
1-2 tablespoons, plus more for topping salsa
pickled jalapenos (optional)
Directions:
Line up brown rice, black beans, shredded cheese, Greek yogurt and salsa on a whole wheat tortilla leaving a 1.5 inch border on each side. Tuck in the sides and roll up. Top with more salsa, cheese and jalapenos. At work, simply microwave for a couple minutes on high.
New addition to the family!
Yesterday, Matt and I got a package in the mail. And what was inside, you ask?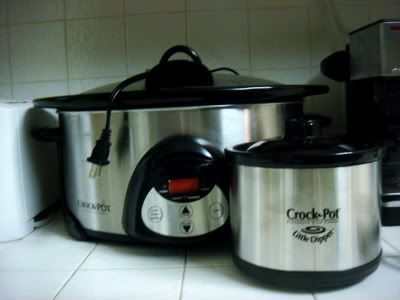 The newest member of our kitchen appliance family!!! Matt's mom (and Dani Does It blog reader) sent us her Little Dipper crock pot that she never uses :):):) I am so excited to make some cheese fondue or artichoke dip in this little bad boy! Doesn't it look like the little baby to my monster slow cooker (right behind it)??
Also in the package was a tube of Bath and Bodyworks body cream which smells deliciously citrusy. I'm happy for any moisturizer that comes my way. I'm used to the murky humid Miami air, I constantly feel like I'm drying out in Los Angeles, haha!
Thank you, Sharon!!!
Foodie Challenge
I have a very exciting challenge I will be working on this weekend as per a friend's request. I will explain it all in full detail tonight or tomorrow...