On Sunday, I made
this
turkey chili I found on
Eat Live Run
. It was my very first time making chili from scratch and I was surprised at how easy and healthy it was! I used ground turkey and truthfully, other than that, you have a pot full of veggies and spices. This was a real winner in my book because I love any recipe that makes healthy food taste like comfort food!
Just look at all of those spices!!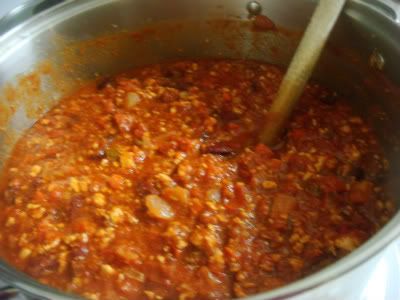 All done!
I served it just how I like it, over some brown rice topped with cheddar cheese and greek yogurt! My new favorite way to eat greek yogurt is with savory food. Probably because I'm such a sour cream fanatic! Greek yogurt makes a healthy protein-packed substitute for sour cream and I hardly taste a difference!
This morning I made a fun chocolatey breakfast:
Chocolate protein overnight oats with strawberries and blueberries: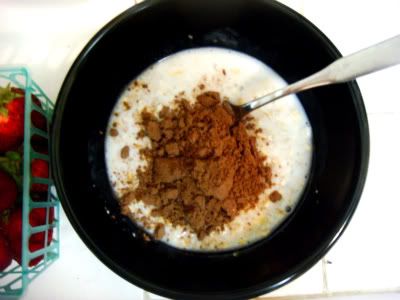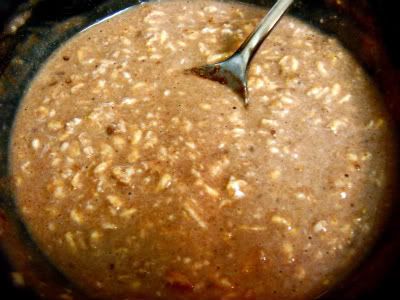 Ingredients:
1/4 cup rolled oats
1/2 cup almond milk
1/2 scoop chocolate protein powder (I used my boyfriend's Muscle Milk)
fresh berries
Directions:
Stir together oats and almond milk the night before. In the morning (or night before) stir in protein powder. Top with berries!
This was a simple and delicious breakfast so long as you have the forethought to make the oats the night before. I like cold oats better than hot oats I just sometimes don't think far enough ahead.
For lunch, I artfully prepared chili leftovers


For me, packing leftovers is all about the sauce! For my chili, I packed a small tupperware (LOVE THEM!) with greek yogurt to mix in. For pasta salads I like to pack extra dressing. In my opinion, leftovers get a little dried out and adding some sauce on the side definitely spruces them up! These little containers are perfect for that and I always toss a mini tupperware in my purse with trail mix or wasabi peas to curb hunger on the run!
When I came home from work today I had a big ole package laying on my bed. What could it be? CLOTHESSSSSS!!!! My lovely mother sent me an entire work-appropriate JCrew ensemble :):):)
The package included the
Velvet Schoolboy Blazer
,
Paper Poplin Perfect Shirt
and
Original Fit Heritage Chino
. Everything fit to perfection! I'm so excited to don this new ensemble at work tomorrow!!!
LOVE YOU, MOM AND DAD!!! You crazy kids have fun in Spain!