Please excuse any typos, blurry pictures or hyperlinks that don't work as I am doing something VERY dangerous and BUI, that's right, blogging under the influence! GASP!
Yes, I had a couple of these: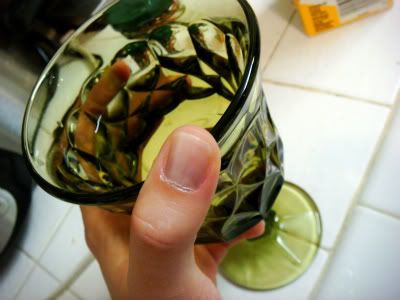 But let's rewind! I started my day with overnight oats in a jar using the peanut butter jar I nearly finished the day before with my green monster smoothie.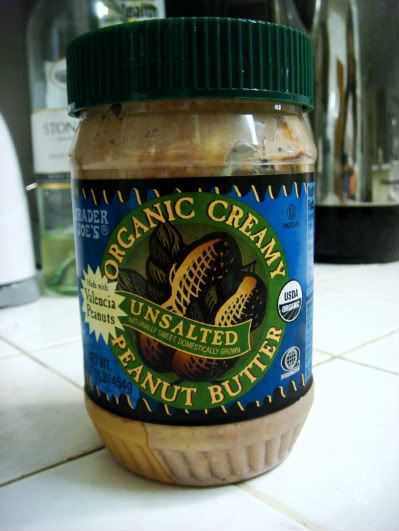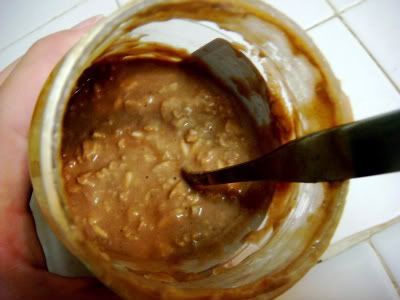 This was delish! I love scraping off the stuck-on pieces of PB from the edge of the jar. I am going to mix up some oats in my practically finished almond butter jar for breakfast tomorrow! And instead of tossing the jar in the recycling like I normally would have done, I washed it out because I thought it would make an ideal vessel for a yogurt afternoon snack. I can put trail mix and other yogurt toppings in one of my mini tupperwares.
So I realize I mentioned running a 5k later this month but haven't talked about training. I'm not formally training for my 5k. I may be out of running shape but only a couple months ago I was running 5 miles no prob. Therefore, I am just building my way back to where I was. As soon as I finish my 5k, I am going to use
Hal Hidgon's
10k training program to get ready for the 10k turkey trot in November. I've done two training runs thus far each infinitely better than the last! Yesterday I did strength training at the gym and I'm sore today, it hurts so good! Today I did NOT work out. Instead I did something SO MUCH BETTER!!!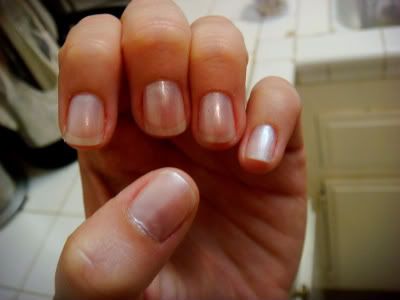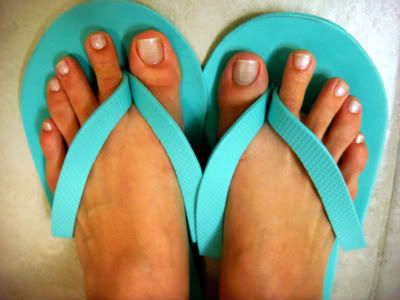 Don't tell my boyfriend, I'm having a love affair with mani-pedi combos! I nearly fell asleep in the massage chair as they were doing my feet. I've decided that there are certain things that are WORTH the money and a pedicure when you need one is one of them! There are days when a pumice stone just won't do the trick!! After a day in heels, this was pure bliss :):):)
For din din, I made my famous VODKA PINK SAUCE! The boyfriend helped by making some frozen shrimp he thawed out to add some protein to the dish. Here's how to make my pink sauce (don't try to healthify it! I have a healthy pink sauce that I will share with you later but for this, GO BIG OR GO HOME!)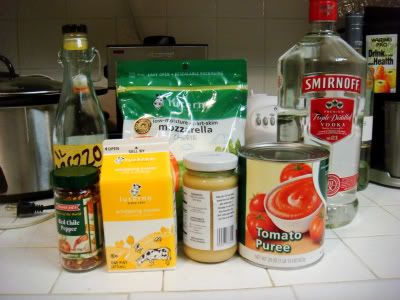 Start by melting some butter and olive oil over medium-medium low heat. Saute a 1/2 tablespoon of minced garlic with a pinch of red pepper flakes (I crush them in my hand first to release flavor).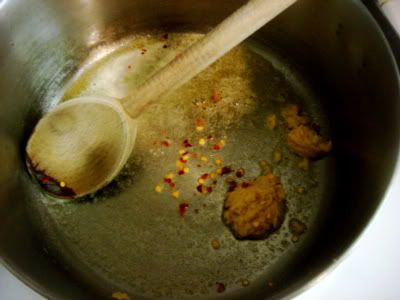 Do NOT let the garlic brown, that will make the sauce bitter! After a couple minutes, add about 1/4 - 1/2 cup vodka. I eyeball everything in this recipe, sorry!
Let it reduce and let most of the alcohol cook out of it. If you lean in close to the fumes, you will get tipsy! It's like taking a shot of vodka through your nose. Once there's about 1/4 of the liquid you started with, add a big can of tomato puree
From this moment, be VERY careful! If you stop stirring for even two seconds to, say, take BLOG pictures, the sauce WILL splatter all over your white kitchen. After about 5 minutes of constant stirring, start adding cheese (as in a whole 2 cup packet of finely shredded mozzerella).
Once all cheese is incorporated turn heat down to low and stir in heavy whipping cream. about 1/4-1/2 cup.
add le pasta...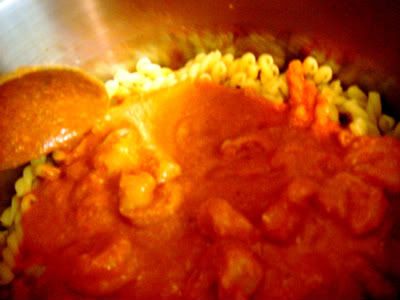 This is my portion with some broccolini and asparagus I roasted at 400 degrees for about 10-15 minutes.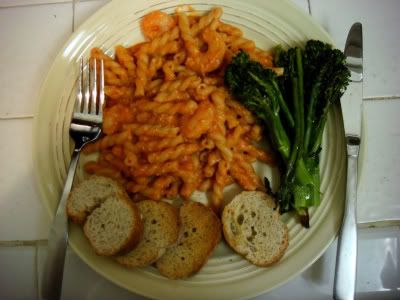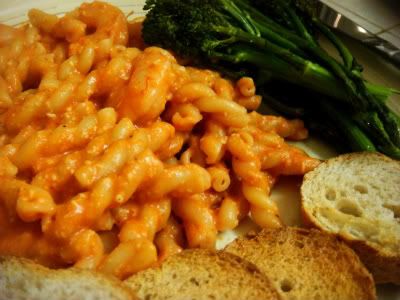 Broccolini is what happens when asparagus and broccoli fall madly in love, get married and make babies ;)
Oh BOY! This meal was SO GOOD!!! I ate it all and my belly is nice and full right now. Matt cleaned his plate too :)
I was a good girlfriend and prepared lunch for us tomorrow.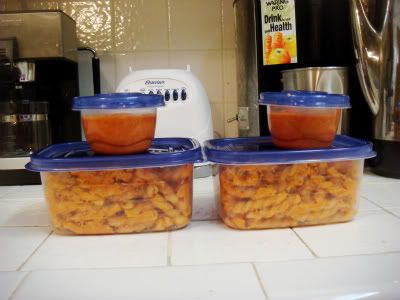 That's right, look at that sauce on the side! Pasta dries out in the fridge, our mini tupperwares full of pink sauce will spruce up these leftovers. My leftovers came with a little something extra.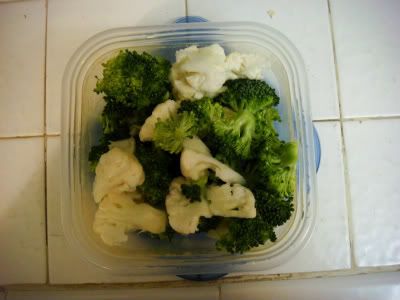 Tomorrow I'll add a tablespoon of water and steam them on the spot in the microwave at work. This will add some great nutritional value to my pasta!! Yum yum, I'm excited for lunch tomorrow!
Okay, so how GREAT are these green glasses in which I enjoyed my wine??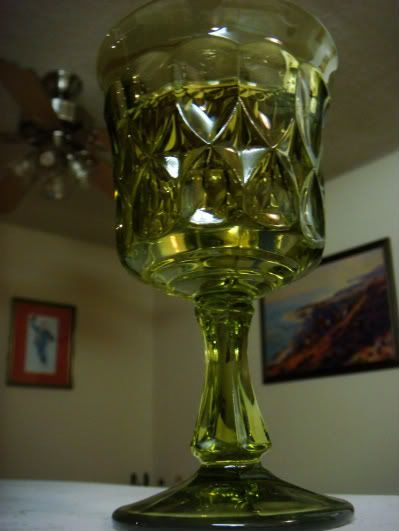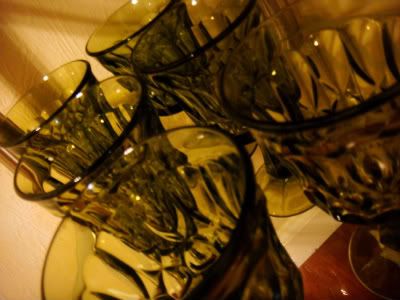 My friend Natalie's mom (who is AWESOME, btw!) bought these for me because she knew that I was looking for green accents to my apartment. She found these at Goodwill, what a find! They are obviously amazing quality as they're pretty heavy. They're my absolute favorite glasses we own, I feel all fancy shmancy when I use them! I told the boyfriend today to SPECIFICALLY pour my wine in the green glasses.
Glasses like this couldn't just be shoved in a cupboard somewhere. Instead I put them on our shelf which also showcases our espresso cups...
and what is that there? on the third shelf down??
French Onion soup crocks!!! I got these on eBay for Matt's birthday since French Onion Soup is his favorite! I can't wait to use these for macaroni and cheese as well.
And I also got him a Segway tour for two in Long Beach which we have yet to do.
Do you have any recipes "under your belt"? If so, what are they and do you measure or eyeball it?