Yesterday was the Malibu Canyon Dirt Dash. Matt, Kyle and I all ran the 5k mud run. It was a 5k run complete with obstacle course and mud pit.
When we got to the race site around 7:30am, it was so cold, around 50 degrees and I just couldn't imagine willingly jumping into a freezing cold mud pit. We checked in, enjoyed some free samples and warmed up before our run started at 9:30am. By the time we crossed the start line, the sun was beating down and it was at least 90 degrees! I felt like I kept a good pace throughout the run but unfortunately wasn't able to run for time since there was a 10 minute wait once we hit our first major obstacle about 2/3 of the way through the course. We completed a rope climb, tire run and, finally, the MUD PIT!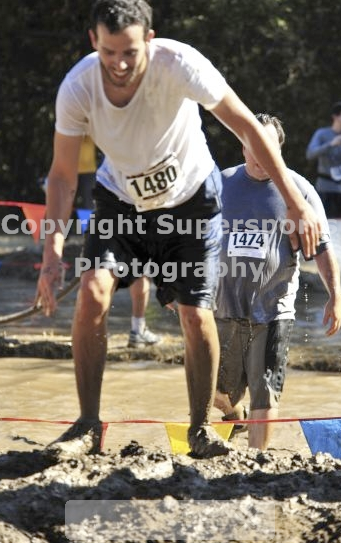 Unfortunately, I couldn't find any pictures of me :( but here's one of Matt making his way through the pit!
The three of us all finished neck in neck of each other and promptly lined up to hose off. I wish I had been able to take pictures but, for this run, I forwent my camera, iPod, compression sleeves and water bottle for the sake of not getting them ruined in the mud pit.
Despite the early wake up call, we were all glad we had done it! Matt is even talking about the "next time" we run a race!
The three of us were starving after the run and went to
Duke's in Malibu
where we stuffed our faces with nachos and fish tacos (Matt had buffalo wings)! Afterwards, we went to Santa Monica because Kyle wanted to buy a bicycle. While he contemplated his purchase, I dropped a pretty penny at the Nike store.
I actually don't have any dri-fit shirts or knee-length running capris so this was a very exciting purchase for me :) What can I say? I was still in the running spirit! I thought I might have to buy new sneakers after the mud run but it looks like I may have hosed them off in time to salvage them.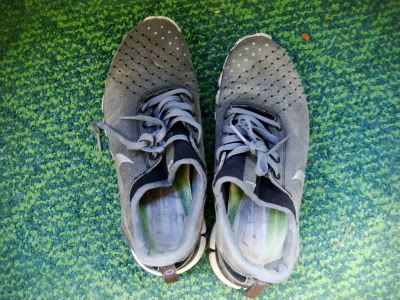 Last night I had leftovers from my cooking night with Jill for dinner!
This morning, I was craving something that was not pumpkin, oats or a smoothie...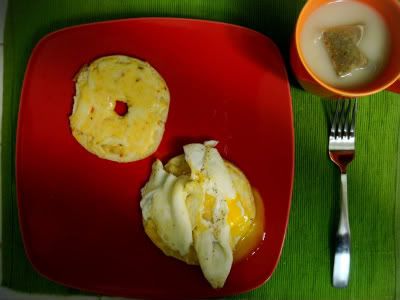 Mmmm... cheesy dippy egg sandwich on a bagel thin with a yerba mate latte. Wow, I haven't had dippy eggs in a while and forgot how much I really enjoy them, especially on a cheesy bagel thin! This is by far my favorite way to eat eggs :)
To add a little nutrition to this meal, I made myself a fruit and vegetable juice with two carrots, 1/2 a lemon, one beet, two apples and one orange. I love this blend because the orange and lemon make it really citrusy which goes great with the beet and carrot flavors.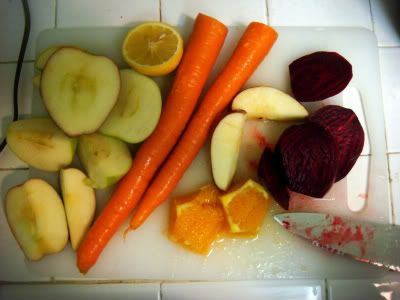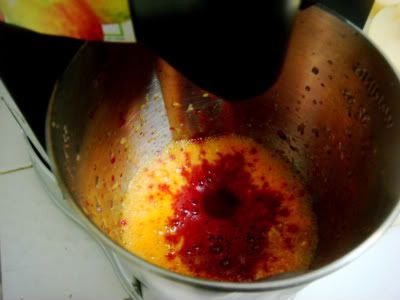 Drinking fresh juice is like having nutrition injected straight into your veins! The only downside is cleaning the juicer :/
If you run, do you run for time, fun, exercise or a combination or all three?
What is your favorite way to eat eggs?